About NR
About NR
Norsk Regnesentral (Norwegian Computing Center, NR) is a private, independent, non-profit foundation established in 1952. NR carries out contract research and development projects in the areas of information and communication technology and applied statistical modeling.
The clients are a broad range of industrial, commercial and public service organizations in the national as well as the international market. Our scientific and technical capabilities are further developed in co-operation with The Research Council of Norway and key customers. The results of our projects may take the form of reports, software, prototypes, and short courses.
NR has 90 employees and the majority of the scientists have a phd. Our research areas are methodological. We have therefore a close cooperation with other research institutions in addition to users in private and public sector. Most new contracts are signed with previous clients. This shows the value of our research for our clients.
NR is one of the technical and industrial research institutes in Norway. Research institutes carry out approximately 25% of the research in Norway. NR receives a small basic funding from the government through the Research Council of Norway but depends mainly on funding for all the research projects from the organization that benefits from the research. Typical clients are large companies like Hydro and Gjensidige, smaller private companies, public sector and international organizations.
NR has contributed to the constitution of several number of private companies. These companies were founded either by NR as an organization or by some of the employees, who either continued working for NR or became an employee in the new company. NR has also helped persons and other organizations to start new companies, contributed in developing new business areas for private companies and participated in the reorganization of work in public organizations.
NR's history
NR was established in 1952. Until 1970 an important part of the activity was to perform mathematical computations for other organizations. After 1970 NR has been a methodological research institute. In 1985, NR became an independent institute and moved to its present location in 1988.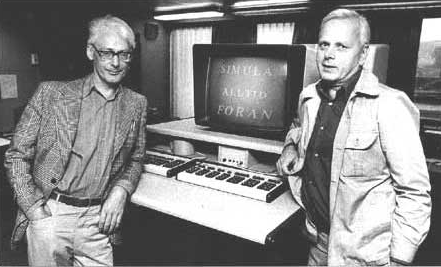 NR is famous for inventing the first object oriented programming language Simula in the 1960s. In 2001 Ole-Johan Dahl and Kristen Nygaard were awarded the IEEE John von Neumann Medal and the Turing Award  for inventing Simula.
NR has worked with data communication since 1963, the Internet since 1973, ICT security since 1988, multimedia since 1994 and e-Inclusion since 2005. NR started working with statistics in 1952, remote sensing in 1982, geostatistics and petroleum in 1983, marine resources in 1988 and electricity prices and finance in 1994.
NR works within all these areas today building on our long traditions. If an area becomes too commercial, NR leaves the area. NR started a centre for Research-based innovation Statistics for innovation- sfi2 partly funded by the Research Council of Norway in 2007, and another centre for Research-based innovation Big Insight - Statistics for the knowledge economy in 2015.
The history of NR is described in a book published in 2002, which is available from the institute.